UK jobs outlook worst in three years, survey finds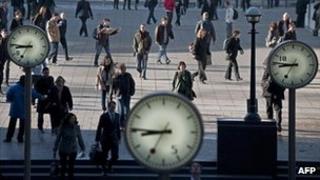 The outlook for jobs has worsened with a survey of 2,100 employers finding that four out of five had no plans to hire workers in the next three months.
The survey by Manpower found that hiring expectations were at their lowest level for three years.
Finance and business services are cutting back on hiring plans, although utilities continue to seek new staff.
The survey comes ahead of the official unemployment statistics on Wednesday which are expected to show another rise
The Manpower survey found big regional variations. Employers in the East of England were hiring more than those in the West.
The survey found employers in the North East were the most upbeat, with a +10% rating, while those in the North West had a rating of -5%.
A positive number implies more employers want to increase rather than decrease their staff.
The employment outlook for Scotland was flat, Northern Ireland was -6% and Wales -3%.
Nationally, the survey produced a flat rating of 0% down from a rating of +1%, implying no growth in employment during the quarter.
Employment generally needs to increase in order to prevent rising unemployment.
Mark Cahill, Manpower's managing director, said: "The 2012 jobs market sits on a knife-edge. In some ways this is a reflection of a weakening economy.
"We hear stories about companies hoarding cash and not investing, and we see a number of business sectors battening down the hatches.
Stagnation
"Employers have adopted a wait-and-see approach to hiring - they are cautious about the economy and the fear of a euro-wide contagion is weighing heavily on their minds."
The stagnation in the jobs market is driven by the financial and business services category, according to Manpower.
The survey found employment expectations in the sector flat, after previous surveys had found strong hiring intentions during 2011.
Construction, hotels and retail also saw small falls.
However, water, gas and electricity companies were keen to bring on new staff, with a rating of +13%.
The survey points out that there are still hundreds of thousands of vacancies across the UK.
A spokesperson for the Department for Work and Pensions said that its work programme will ensure that people have the skills businesses need to take advantage of job opportunities that will arise.