Asian chipmakers fall after Intel cuts sales forecast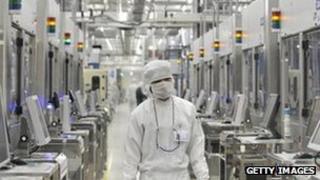 Shares in Asian makers of computer chips fell on Tuesday, after Intel cut its revenue forecast.
Intel, the world's largest maker of microprocessors, said on Monday it was due to a shortage of hard disk drives.
Severe flooding in Thailand, which has killed more than 600 people, has disrupted production there.
Shares in South Korea's Samsung Electronics fell by 1.29%, while Hynix Semiconductor was 2.02% lower.
In Japan, semiconductor shares were lower by 2% to 3%.
Disk shortage
Because of its size, Intel's forecasts often act as a bellwether for the entire sector.
Thailand is a manufacturing centre for technology and heavy industry.
The floods in the country have also affected global production of cars and personal computers.
Intel said its main customers, computer makers, were cutting orders because of the hard disk drive shortage.