Indian rupee falls to historic low against US dollar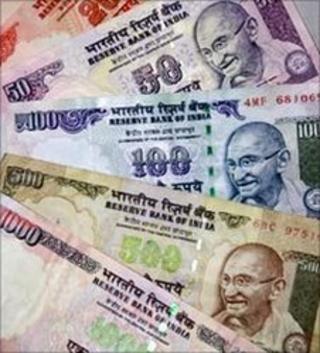 The Indian rupee has hit a new all-time low against the US dollar, after the release of weak economic data.
The Indian currency fell to 53.42 to the dollar on Tuesday, down more than 10% since the start of 2011.
On Monday, Indian monthly factory output showed its first decline in October in more than two years, triggering a sell-off.
Output from factories and mines fell by an annual 5.1%. A fall of only about 0.5% had been expected.
Thomas Harr, a currency strategist at Standard Chartered Bank, said investors were selling the rupee because economic growth was clearly slowing, at a time when inflation remains a problem.
Last week, the Indian government cut its annual growth forecast for the current fiscal year to between 7.25% and 7.75%, from as much as 9% previously.
The rupee remains Asia worst-performing currency, according to Mr Harr.