France's Areva to cut nuclear jobs and investment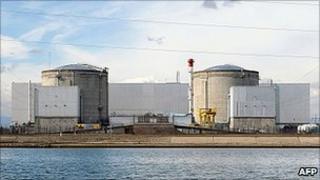 Areva has unveiled big cuts to jobs, investments and dividends as it forecast an operating loss of up to 1.6bn euros ($2.1bn, £1.4bn) this year.
The French nuclear giant will shed up to 1,500 workers in Germany - a quarter of its workforce there - after Berlin's decision to phase out nuclear power.
French employees will face a wage freeze next year, but no job cuts, while management are foregoing bonuses.
Its 2012-16 global investment plans are being cut by 34% to 7.7bn euros.
Among the projects being shelved as part of the company's new five-year turnaround plan are:
a $3bn uranium enrichment plant in the US state of Idaho
expansion of uranium mines in South Africa, Namibia and the Central African Republic
expansion of three nuclear plants in France.
Final decisions about the French state-owned firm's investments have yet to be made, according to chief executive Luc Oursel, who took over in June.
Markets responded positively to the details of the plan. The overall thrust of the cuts had been well flagged in advance.
Shares rose 1.2% in early trading, outperforming other utility firms.
The company's share price remains down more than a third since it first listed on the Paris stock exchange in late May.
France protected
Areva said it would sell off some 1.2bn euros of assets. The French government's strategic investment fund said on Monday that it was interested in buying the company's minority stake in mining firm Eramet.
As well as an expected operating loss for this year of 1.4bn-1.6bn euros, the nuclear power company also said it was writing down the value of its assets by 2.4bn euros.
Areva said it would cut its dividend to a quarter of its net profits for the next two years.
The company's problems stem from the loss of political favour for the nuclear power industry following the nuclear meltdown at Fukushima in Japan, as well as the economic downturn in Europe.
In Germany, which accounts for 6% of the French firm's order book, the government has decided to shut down its entire nuclear industry by 2022
In France, unions have claimed the company is planning 1,200 job cuts.
But the industry minister, Eric Besson, promised on French radio that there would be not even be any voluntary redundancies at the company in France.