Pension deficits hit new record level of £222bn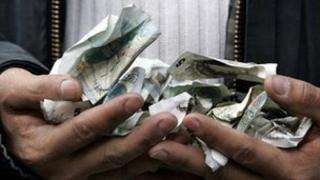 The collective deficit of private sector final-salary pension schemes hit a new record of £222bn in November.
The Pension Protection Fund (PPF), which compiled the figures, said the deficit had risen by £64bn from the end of September.
It said that although the value of scheme assets had risen, this had been outstripped by the sharply rising cost of paying for pensions.
A year ago the collective deficit stood at just £1bn.
"Over the month, scheme assets rose by 0.7% and over the year there was an increase of 5.9%," said the PPF.
"Total scheme liabilities [the value of the assets required to pay pensions in the future] were £1229.2bn at the end of November 2011, an increase of 6.1% over the month and an increase of 29.1% over the year," the PPF explained.
Mark Duke, of pension consultants Towers Watson, said the cost of providing pensions was rising because of the increasingly poor return that the funds could gain on government bonds, which are their benchmark investment.
"How much money a company or insurer needs to put aside today to cover a pension payment due in 20 years' time depends on how much interest it will earn on that money in the meantime," Mr Duke said.
"Interest rates on UK government bonds are now negative after allowing for inflation.
"Whether that is because [investors] are looking for a safe haven from the eurozone crisis, because the Bank of England is printing money, or because growth is expected to be low, the consequence for pension funds is that their finances look less healthy," he added.
Joanne Segars, chief executive of the National Association of Pension Funds, said: "A hike in liabilities has sent many pension funds deeper into the red.
"Gilts are important in the financing of pension funds, but the yields they offer are damaged by quantitative easing. The latest round of £75bn will only have made things worse."