High Street traders' views on Portas report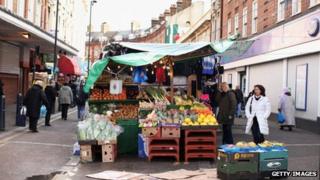 A national market day and less regulation of High Street traders are among several recommendations from retail expert Mary Portas to revive the High Street. Local business people throughout the UK offer their views on such ideas.
Holyhead, Isle of Anglesey
In 2009, the north Wales port of Holyhead was labelled as having the British high street with the highest proportion of vacant shops.
One UK daily newspaper described it as "depressing" and "empty of shoppers - store after store empty and boarded up".
But a lot can change in two years - even in the current climate of economic uncertainty.
While Mary Portas calls for cutting regulations, the publicly-funded Plas Cybi Partnership is creatively using the current system with a low-cost empty shops initiative.
It's been negotiating rent reductions with landlords, sprucing up derelict premises, and finding new tenants.
Development officer Alun Roberts, said the makeovers cost just a few thousand pounds each, and the properties are now home to thriving young businesses.
"It was quite dire in Holyhead town centre about 12 months ago," he said.
"But we have been able to turn things around."
A former food store that stood empty for several years is now the Silky Soles spa - offering feet pedicures using garra rufa fish.
An abandoned office suite is home to Eden Emporium - set up by four women to sell their jewellery, art and decorated cakes.
And a one-time decorating chain store is now home to Plas Cybi's own shop, promoting local gifts and acting as a tourism hub.
"It is a gradual process, it is something that is happening on a weekly basis," said Mr Roberts.
"But the good news is that existing traders who have been here for some time, they are seeing an increase in their trade."
Cowbridge, Glamorgan
While Mary Portas calls for a national market day to boost Britain's high streets, the south Wales market town of Cowbridge already recognises the power of events to drive trade.
Labelled the Bond Street of Wales and a mecca for "ladies who lunch", Cowbridge is notable for its exclusive boutiques, family-run independent stores and quirky cafes.
Debbie Cooke, founder of the town's community networking website Hub Cowbridge, says many businesses in the town have been joining together to stage events that promote the town's uniqueness.
"The more forward-thinking retailers know they need to be proactive and that the customer won't just come to you anymore," she said.
"They join together with other businesses to hold events, such as the book festival and fashion week, which are new.
"We recently had three shops coming together to put on a fashion play - they are thinking outside the box and bringing people to their shops."
Badir Saidi has even been inspired to open a cafe and restaurant by what he calls the town's "wow" factor.
"It's scary setting up a business in the current climate but I think everyone has to take a risk these days," he said.
"It's a lovely town and I think people enjoy coming here."
Stalham, Norfolk Broads
Market stall holders in Stalham on the Norfolk Broads say they have seen their numbers dwindle rapidly since the arrival of a Tesco store nearly a decade ago.
When the BBC arrived at the Tuesday market, located at the opposite end of the High Street to the supermarket giant, there were just three stalls occupying the old station yard site.
Christine Boggis, who runs a plant stall, said although there is a general increase in trade during the summer because of an influx of holidaymakers, local residents simply do not bother walking up the road to buy their fresh vegetables or have a cup of tea.
"It's very poorly attended. I think we'd be better off if we were further in the centre of the town," said Ms Boggis.
"The focus is mostly on Tesco, so everybody is down that end and there's not many people who come up this end.
"A lot of people don't come because they know there's not a lot of footfall up here, but I think if we were more central then they would perhaps reconsider."
She added that Mary Portas' national market day initiative could be a "good idea" if it would boost business for the stallholders.
Shrewsbury, Shropshire
Looking around the town centre of Shrewsbury there are very few empty units and a large proportion are independent retailers. The town's market hall also has a lengthy waiting list for stalls.
However, that does not mean that trading is not tough, and there is a general impression that the next week will be a critical time for some small retailers.
Michelle Jamie, owner of Wysteria Lane, said there had been a noticeable drop in footfall over the last 12 months. Parking charges have gone up, and the park and ride service is no longer free for the over 60s.
Ms Jamie owns two small boutique branches in Shrewsbury and has also opened one in Birmingham within the last year, employing 16 staff in all. She was approached by Birmingham City Council and she said there had been a difference in their attitude towards traders and that of Shropshire Council.
"In Birmingham I have been very well supported, I have a mentor who I can approach if I need help or advice, with marketing for example. The council also treat it more like a business, which is something Mary Portas has mentioned. But in Shrewsbury, we're pretty much left to get on with it."
She adds: "Ironically I'm a much smaller fish in a much bigger pond in Birmingham, but I feel like I've got a bigger voice."
Northern Ireland
Patrick Bogue owns two jewellers, one in Enniskillen and one in Omagh, and thinks car-parking leaves town centres at a great disadvantage, when out-of-town complexes offer seemingly endless space.
"We need to think of town centres as mini shopping centres, bringing together stakeholders," he said.
"Parking is a key issue. Northern Ireland has a higher rate of empty shops than rest of UK."
Lorraine O'Connell, who runs a clothes shop in Ballyclare, County Antrim, was quick to point the finger at car-parking as well.
And while Mary Portas hailed markets as a way of bringing people into town centres, Ms O'Connell has experienced some possible disadvantages first-hand.
"Markets in towns like Ballyclare can be difficult, as quite often we have one in a car park which takes up spaces," she said.
"I'm lucky because my shop is opposite a supermarket car park."
So parking and ease of access to local High Streets and town centres does seem to be a major issue.
However, in September plans for on-street parking charges in 30 towns and cities across Northern Ireland were shelved by the regional development minister.
And to help with the Christmas rush, shoppers in Belfast, Lisburn and Newry where there is normally a charge for on-street parking, will be able to park for free up until Christmas Eve.
Paddy Lynn has an antiques and collectables stall at St George's Market in Belfast and he said he was in favour of Ms Portas' idea to make it easier for people to open up stalls.
He is also a member of the National Market Traders Federation which met with her recently.
"We are working to develop new markets within the city. There are great opportunities in our cities," he said.
"Ten thousand people come through St George's on a weekly basis and we need to encourage those people to shop on the High Street as well."
Inverness
Hugh Nicol runs the Riverside Gallery in Inverness. He agreed with much of Mary Portas' report, but added that in some ways businesses in the Highland capital had long ago recognised the need to protect and regenerate the city centre.
Inverness established a city centre manager 10 years ago and this role is now done by the Inverness Business Improvement District (BID) team.
Mr Nicol said Highland Council had also contributed funds towards the £6m Inverness Streetscape project, between 2007 and 2009, to revamp several streets.
Ness Walk was made pedestrian friendly and large stone "ramps" called the Three Virtues were installed in Church Street.
Free parking has also been offered in the past at the Rose Street Car Park, which itself has been the focus of local authority-backed arts projects, including cars volunteered by their owners to be spray-painted by graffiti artists.
Mr Nicol did add, however, that rents for premises were an issue.
He said: "About a year ago I asked a surveyor why shops were being allowed to lie empty and their rents were not being reduced to encourage new occupiers.
"He explained to me that the rental value of a property had a direct link to the capital value of the property.
"Because a lot of these properties are owned by national property companies they do not want to see the capital value of their portfolio fall, especially if they have borrowed money from banks.
"They would rather the properties lay empty than reduce the rents and make some money from them.
"To me that side of capitalism is bonkers."