Japan's Nexon sees lukewarm response to $1.2bn float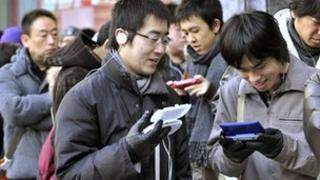 Japanese online gaming company Nexon received a lukewarm response from investors to its $1.2bn (£775m) initial public offering, Japan's biggest this year.
At the end of trading in Tokyo, shares in Nexon closed at 1,270 yen, down from its flotation price of 1,300 yen.
Nexon game titles include Maplestory and Zombie Misfits.
The game creator is a fast-growing rival to US-based Zynga, which makes its trading debut on Friday.
Nexon's online games are free, but the company generates revenue through the sale of virtual goods, including uniforms or weapons.
Chinese prospects
The company made 31% of its revenue from gamers in China last year, compared with 35% from South Korea and 18% from Japan.
Analysts said one of its main attractions to investors could be its following in China, which is expected to be the world's largest online-game market by 2014.