Euro falls below $1.30 for first time since January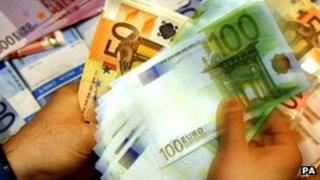 The euro has fallen further against other major currencies as fears continue over the eurozone's future.
The euro fell below $1.30 for the first time since 12 January. Against the pound, one euro bought 84 pence, while the pound was worth about 1.19 euros.
Last week, 26 of the 27 members of the European Union backed new fiscal rules, with only the UK abstaining.
But many fear that the budget pact will still not be enough to prevent more countries from seeking a bailout.
European stock markets resumed their slide in afternoon trading on Wednesday. London's FTSE 100 was down about 1.8% by 15:30 GMT.
Frankfurt's Dax was 1.25% lower, with the Paris Cac 40 was down 2.35%.
US markets also fell at the open of trading on Wall Street, with the Dow Jones 0.7% lower.
Last Updated at 16 Feb 2018, 23:16 GMT
| €1 buys | change | % |
| --- | --- | --- |
| 1.2413 | 0.00 | +0.02 |
In other developments, the costs of borrowing for eurozone countries continued to diverge. Italy's government paid an interest rate of 6.47% to borrow 3bn euros for five years at a bond auction, up from 6.3% last month.
Following the auction, the borrowing cost for the country implied by market prices rose further, with yield on 10-year Italian bonds rising to 6.77%.
That is close to the 7% level that Italy reached last month, triggering anxiety among Europe's political leaders that Rome's debts were becoming unsustainable.
Meanwhile on Wednesday, Germany - whose debt is viewed by markets as the safest place within the eurozone to invest - saw its borrowing costs fall further.
At an auction of 5bn euros' worth of two-year bonds, the yield was 0.29%, down from 0.39% last month.