Fujitsu's quest to put tech choices into users' hands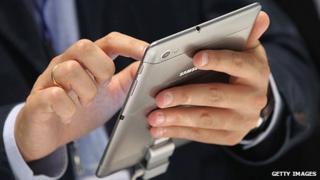 Each week we ask high-profile technology decision-makers three questions.
David Smith is global chief innovation and technology officer of Fujitsu, a global provider of ICT business solutions.
The Fujitsu Group employs over 170,000 globally, delivering IT products and solutions to customers in more than 70 countries.
The company is the world's third largest IT services provider, and number one in Japan. Headquartered in Tokyo, Fujitsu had revenues of 4.5tn yen ($57.6bn, £37bn) for the fiscal year ended 31 March 2011.
What's your biggest technology problem right now?
Our biggest problem applies to us both as a user of technology and also as a provider of technology.
The term has become commonplace now: it's the consumerisation of IT.
It's working out how we meet the expectation that the 21st century capability that people have at home also exists in the corporate space.
Traditionally that hasn't been the case. The opportunity and the challenge is how we meet that expectation, and how we deliver that productivity improvement promise without compromising privacy of data or data protection legislation - or exposing corporate intellectual property unnecessarily.
It's working out how we can say yes, rather than no. But when we say 'yes' we're saying 'yes' in a managed, risk-understood way.
Integration has become ever more critical. Diversity is almost unstoppable - the world of having a lovely stack that from top to bottom is Fujtisu is gone.
It's not just us - other companies have had to face the same thing. You go through that denial phase, or that King Canute phase of "I'm going to ignore this and it's going to go away".
Then you realise you have to adopt your models or adapt your offerings - or else you will have no customers. It will happen quite quickly.
For example, people that chose to ignore cloud computing are now playing very fast catch-up, or no longer exist.
What's the next big tech thing in your industry?
Rather than innovating something that we've done for a while, the area that I think gives a real opportunity is a combination of hype terms.
One of them is 'big data', and the other is the 'internet of things'.
There's a real opportunity in being able to connect a huge multiplicity of devices into a connected world that can bring vast amounts of data back to a big data platform capable of that size and scale and speed of analytical behaviour. It can then play back, in a business sense or societal sense, outcomes.
Just capturing the data if you do nothing with it is pointless - so the systems we build have to be able to take that data and turn it into value, turn it into something that has an outcome that's positive.
When you start to think about sensor-flooding a modern city, and then using the data that it gathers to automatically manage the environment, improve and tune the it, that's quite a different proposition to what we do already.
It's not going to be easy - there's a whole load of privacy issues there - but I think there's vast potential.
What's the biggest technology mistake you've ever made - either at work or in your own life?
I decided to buy myself an e-reader - without really doing a huge amount of research - just a week before the Amazon Kindle was released.
I've only used it twice. It was so difficult to use, and access to the books was so hard to get compared to an iPad or a Kindle, that I completely wasted a couple of hundred pounds.
At first I thought it was great - I thought the screen was good, I quite liked the interface, the weight was great and it did the job. It ticked lots of boxes until I realised how hard it was going to be to get material onto it, and whether I could be bothered.
It's now in a box somewhere. I tried to give it away a few months ago and nobody would take it!