French bank Credit Agricole to cut 2,350 jobs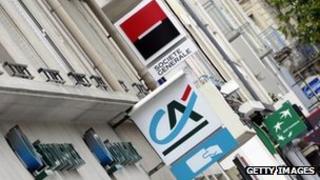 French bank Credit Agricole, one of the most exposed to the eurozone debt crisis, has said it will cut 2,350 jobs worldwide.
But the bank said: "Against challenging market conditions the Credit Agricole Group will post a profit for 2011."
About 850 jobs are to be lost in France, it said. Most of the cuts - 1,750 - will come from its corporate and investment bank, Cacib.
Credit Agricole employs 160,000 people, a third of them outside of France.
Its unit, Cacib, employs about 15,000 people globally, including 4,600 in France.
Earlier this month, ratings agency Moody's downgraded France's three big banks - Credit Agricole, BNP Paribas and Societe Generale - due to their difficulty borrowing money.
In November, Credit Agricole reported a 65% drop in third-quarter profits after being hit by losses on Greek sovereign debt.
The French bank wrote down its exposure to Greek government debt by 60%, taking a 637m-euro (£535m) charge.
Among the French banks, BNP Paribas and Societe Generale have both warned unions of plans to cut jobs.