China to tax US-made car imports in trade dispute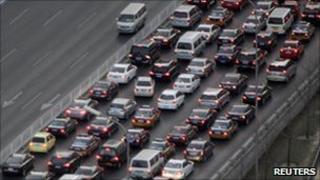 China will levy duties on some cars made in the US in the latest escalation of trade disputes between the two largest economies.
China's commerce ministry said in a statement that vehicles were being dumped on the Chinese market, causing damage to the domestic industry.
The taxes will affect models from General Motors, Chrysler, Mercedes Benz and BMW that have been made in the US.
China is now the world's largest vehicle market.
Individual duties on each company range from 2% to 21.5% and will be levied on imported cars and SUVs with engines larger than two litres for two years, the commerce ministry said.
The decision to tax US-made cars came after China lost a two-year battle over tyre exports to the US in September.
The World Trade Organisation ruled in favour of the US and allowed a proposal to significantly increase duties on Chinese tyres coming into the US.
It rejected an appeal from China that the 2009 duties were protectionist.