Hong Kong stock market debuts struggle in weak market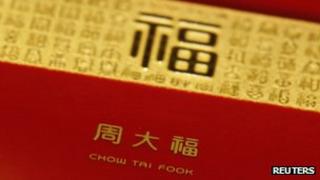 Shares in two of Hong Kong's biggest stock market flotations this year have fallen in their first day of trading.
Shares in jeweller Chow Tai Fook closed at HK$13.80 ($1.77; £1.14), down from an offer price of HK$15.
Insurance firm New China Life also lost ground, falling to HK$25.70 from an offer price of HK$28.50.
Recent Hong Kong initial public offerings (IPOs) have struggled to attract investors amid volatility on stock markets worldwide.
Hong Kong's benchmark Hang Seng index fell for a sixth consecutive session on Thursday and is down 21% this year.
Its once-booming market for IPOs has been hit as a result.
Companies listing in Hong Kong have raised $30.4bn (£19.7bn) so far this year, far behind the $57bn raised in 2010, according to figures from market data firm Dealogic.
However, Hong Kong remains the world's top market for new listings, with more funds raised than New York or London.
Chow Tai Fook raised $2bn by selling shares to investors in Hong Kong's third largest IPO this year.
The amount raised lagged behind the $2.5bn that Italian fashion house Prada raised in its Hong Kong IPO in June and the $2.1bn raised by Shanghai Pharmaceuticals.
While its name does not travel far outside its home market, Chow Tai Fook is a major brand in China and its listing had been hotly anticipated.
New China Life, meanwhile, raised $1.9bn in its IPO in a dual Hong Kong and Shanghai listing. It will begin trading in Shanghai on Friday.