US factory gate prices rise 0.3% in November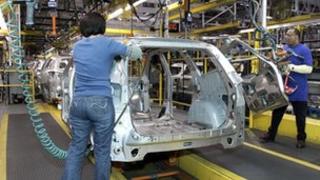 US producer prices rose by more than expected in November, according to data from the US Labor Department.
The prices firms pay for goods from factories rose 0.3%, against a 0.3% fall in October, and higher than a 0.2% rise that economists had forecast.
Excluding the volatile food and energy sectors, core producer prices edged up 0.1% after being flat in October.
Separately, data showed that far fewer people are seeking unemployment benefits than three months ago.
The number of people applying for welfare payments fell last week to 366,000, the lowest number since May 2008, according to the Labor Department.
The US unemployment rate recently dropped to 8.6%, from 9%. In May 2008, the rate was 5.4%.
Flood effect
The Labor Department said that, in the year to November, core producer prices rose 2.9%, the largest rise since June 2009.
The report said food prices rose 1% in November, with vegetables accounting for half this increase.
Passenger car prices rose 0.6% last month, after falling 0.8% in October, with manufacturers reporting that the floods in Thailand that disrupted supply chains had fed through into costs.