Rental costs see first fall in 10 months, LSL says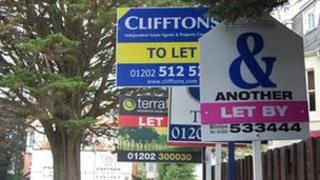 The cost of renting a home in England and Wales fell for the first time in 10 months in November, a survey has said.
Rent at a typical property dropped by 0.4% compared with October, to £717 a month, LSL Property Services said.
However, a tenant still typically paid 3.5% - or £25 - more in rent than a year earlier, the survey found.
The changes seen last month showed regional variations, with prices rising the sharpest in Yorkshire and the Humber, as well as in Wales.
Seasonal
LSL, which owns lettings agents including Your Move and Reeds Rains, said that prices did tend to fall at this time of year. The biggest drop was in the East Midlands, which recorded a 2.2% monthly fall.
"Following their relentless march upward throughout the year, rent rises have taken a pause for breath," said LSL director David Newnes.
"Landlords are looking to avoid having properties vacant over the Christmas period, and can be less aggressive with pricing as tenant activity slows in the run-up to the new year."
However, rents in London, Yorkshire and the Humber, Wales and the West Midlands still rose in November compared with the previous month. Mr Newnes said he expected average rents to rise again at the start of 2012.
The fall in the cost of renting coincided with a decrease in the number of tenants getting behind on rent payments.
"We are still also seeing the impact of a changed tenant mix, which is helping keep arrears below historic levels," Mr Newnes said.
"A large proportion of current renters are would-be credit-worthy buyers, were they able to provide a big enough deposit to satisfy tight mortgage lending criteria. These tenants are typically financially sound, and less likely to experience payment issues."
However, the economic climate and the risk to jobs meant tenant arrears were likely to rise again next year, he added.