Thea Green: Your questions answered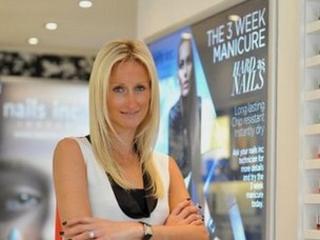 We're facing the biggest youth unemployment crisis in a generation, according to the International Labour Organisation.
We have given some young entrepreneurs the opportunity to put their questions to a business professional.
Thea Green is a British entrepreneur who founded Nails Inc in 1999, a chain of nail bars which provide fast manicures and serve 10,000 customers a week.
Your questions
Victoria Coffey, Bangor, Northern Ireland asks: How did the ideas come to you? Did you purposely sit down and think of something that was lacking or that could be bettered?
THEA: I was 24, working as a fashion journalist, and spending a lot of time in New York. I quickly became hooked on their $10 manicures, and it was while there that I had my light bulb moment. I couldn't believe that the UK didn't have nails bars like this - a quick, cheap pampering fix for busy women. Manicures here were associated with women who lunched and involved sitting around for hours. When I arrived back, I started to research into what nail services were available in the UK and to my complete surprise and relief, I found there was a real gap in the market. From there I felt that this idea could really take off.
Matthew Boyd, Hillingdon, UK asks: I am currently studying my AS-Levels and have always wanted to start my own business. Should I go to university to get my degree in business management and accountancy and gain knowledge but rack up student debt - and then start up a business - or should I just start up my own business now?
THEA: There are pros and cons for both. Some of the most successful entrepreneurs I know haven't got degrees and have done amazing things, they have huge vision and drive to succeed.
Equally, higher education can give you the background and skills to know that little bit more when running your own business. University is also a great time to meet new people, expand your network and try new things. There are so many options available these days, that a degree doesn't necessarily mean student debt.
I think that whatever situation you find yourself in, shouldn't stop you pursuing a venture you are truly passionate about. Life is about juggling and that doesn't just stop once the business is up and running, if anything life will probably get more demanding.
Dave Lewis, Birmingham asks: How did you go about securing capital investment at the start of the project - especially without a proven track record of success?
THEA: I quit my job, put together a comprehensive business plan and went about scouring the country for investors. I had real belief in my idea and that I think that came across when I was pitching to investors. Clearly they didn't all say yes! However in the end I managed to secure 11 angel investors and raised an initial £200,000 which helped me get the company off the ground.
Andrew, Doncaster asks: Why did you decide to go into business? Was is something you dreamt about or something that just happened?
THEA: At the time I came up with the idea of Nails Inc, I was working as fashion editor at Tatler, which in itself was a dream job. I hadn't been looking for a business opportunity as such, however once the idea had come to me I knew it was too good not to pursue.
A lot of the big things that have happened to Nails Inc seem to have come quite naturally. The response to the business idea was immediate, people kept asking when we were opening, so I knew I just had to do it.
However, to set the business up did mean quitting my job, and with no investment and no money to fund myself was a real gamble at the time.
Douglas Peacock, Hawaii, US asks: How do you maintain the confidence to pursue an idea or dream?
THEA: Setting up your own business can be incredibly challenging at times and people do knock you down however you just have to be hugely determined and never give up. I truly believe if you have a great idea and the will to succeed, anything is possible.