New China Life surprises with strong Shanghai debut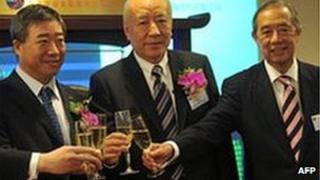 Chinese insurer New China Life has made a strong start in its Shanghai market debut after a poor performance in Hong Kong a day earlier.
New China Life shares rose 13% to 26.30 yuan ($4.14; £2.66) from an offer price of 23.25 yuan.
The company raised $1.9bn in a dual Hong Kong and Shanghai listing.
Analysts said the company was benefiting from better market sentiment after a recent sell-off on Asian stock markets.
Its Hong Kong shares fell 10% in their trading debut on Thursday but were up slightly in Friday trading.
The Shanghai composite index was trading flat, while Hong Kong's Hang Seng index was up 0.5%.
Chinese companies often seek dual listings as Shanghai's stock market is not fully open to international investment.
Swiss insurer Zurich Financial Services has a 15% stake in New China Life, which is the country's third largest insurer.
China's stock market is down more than 20% this year and this had lead to poor demand for initial public offerings (IPOs) from investors.
Companies listing in Shanghai have raised $15.6bn so far this year, according to data from Dealogic, making it the fourth biggest market for initial public offerings after Hong Kong, New York and London.