India keeps interest rates on hold at 8.5%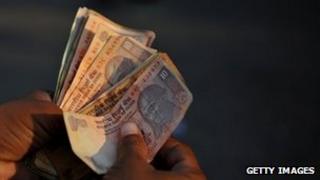 The Reserve Bank of India has held interest rates at 8.5%, interrupting a long period of rate increases.
The widely expected decision reflects concern at the weakness of the economy.
Inflation remains high, although the rate of wholesale price rises fell to 9.1% in November from 9.7% a month earlier, data on Wednesday showed.
Despite the central bank raising rates 13 times since March, the value of the Indian rupee fell to another all-time low against the dollar this week.
The currency's weakness, which has been driven by weakening economic data, has pushed up the price of imported goods in India, fueling inflation.
March decision?
"The central bank is walking a very tight rope," said Jagannadham Thunuguntla, head of research at SMC Global Securities, in New Delhi.
"They are battling too many challenges at the same time, be it the slowing growth, rupee and the inflation."
Like many economists, he now expects the next move to be a rate cut, although this may not happen until March, after updated inflation and growth forecasts are released.
"I feel that it is a very clear admission by the central monetary authority that the fundamentals have worsened," said Rupa Rege Nitsure, chief economist at Bank of Baroda.
"They want to come out with fresh projections for inflation and GDP growth in January policy."