Incomes fall for fifth year in a row says Bank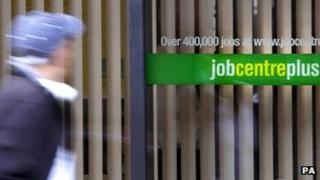 Disposable incomes have fallen for the fifth year in a row, according to the Bank of England's quarterly bulletin.
The Bank's survey found the amount the average household had to spend each month, after tax, bills and housing costs, fell by £46 over the year.
The Bank blamed rising VAT and energy prices, as well as government cuts for the fall.
It comes as another survey by Deloitte found one in five UK households saw their income drop in the last quarter.
This was due to higher unemployment, loss of bonuses, a reduction in overtime and more part-time working, said the consultancy and accountancy firm.
Cuts
The Bank of England's survey of 2,000 households was carried out by NMG Consulting in September.
It found that 56% of households said their wages had failed to keep pace with rising bills, whilst 48% said they had been affected by the government's spending cuts.
The squeeze on incomes may have pulled back consumer spending, according to the bank.
"Over the past year, the recovery in the UK economy appears to have slowed," said the report.
"That weakness in the UK demand has been driven by falling consumption, reflecting the challenging environment facing households."
Spending
The Deloitte survey also found evidence of consumers cutting back on their spending on discretionary items such as entertainment and holidays.
At the same time, it found, inflation was driving up the cost of essentials, with 44% of respondents spending more on food.
Half of respondents said they were spending more on utility bills and 37% were spending more on transport costs.
"A fierce squeeze on disposable income and high levels of macroeconomic volatility pushed the consumer sector back into recession in 2011," said Ian Stewart, Chief Economist at Deloitte.
"The UK has generated far higher levels of inflation over the last year than any other industrialised nation, and this has hit consumer spending power."
Inflation on the Consumer Prices Index (CPI) measure fell slightly to 4.8% in November from 5% the previous month, but is still well above the Bank of England's target of 2%.
'Prioritising spending'
Deloitte's new Consumer Tracker, which monitors consumer confidence and spending habits, found that 41% of consumers were spending less on entertainment.
It also found that 28% were cutting back on holidays, while 36% were spending less on clothing and footwear.
However, Deloitte said that in the clothing category, consumers appeared to be buying cheaper items rather than fewer items, with figures indicating that sales volumes were flat rather than falling.
"Consumers are telling us they are deliberately making fewer impulse or spontaneous purchases. People are being forced to prioritise their spending habits," said Nigel Wixcey, UK head of consumer business at Deloitte.