Communication networks 'must come together'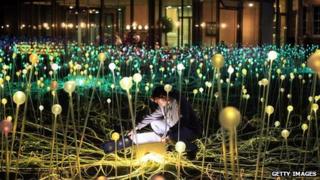 Each week we ask high-profile technology decision-makers three questions.
Alcatel-Lucent describes itself as a leader in mobile, fixed IP and Optics technologies, and a pioneer in applications and services.
In its world-renowned research labs, 13 of their scientists share seven Nobel prizes in their respective fields.
With headquarters in Paris, Alcatel-Lucent had revenues of 16bn euros (£13.3bn) in 2010.
Marcus Weldon is the the firm's chief technology officer, responsible for coordinating the technical strategy across the company.
What's your biggest technology problem right now?
I think it's really this confluence that we see in our customers, and we have to undergo ourselves, of applications running on IT systems and IT systems being used to run the network more.
Why is that difficult? It means that applications that used to run on bespoke platforms - Solaris type systems or ATCA, an industry telecom platform - are now going away.
Instead you have to port your software onto commercial computers - basically data-centre 'stuff' - which means rewriting some of the software so that it can take advantage of the elastic scaling of the cloud. But there's also the sense that that's commoditising the software in some way - because anything that goes into the cloud gives the sense that you're doing it for lower cost.
Telecoms applications moving to the cloud is an effort. There are benefits because it then can scale so that, for example, calls on Mother's Day or New Year's Day, which typically used to overload switches, can now be elastically scaled. That's a big benefit.
But more than that, what makes it challenging is that typically organisations that worked on app development, platforms or IT systems that control platforms were completely different organisations.
Now all of these guys must come together to move that application onto an IT system, and couple that application to the network to take advantage of network capabilities.
So you've got this huge cultural, organisational and economic shift. Making all that happen in a way that's profitable is going to be challenging.
What's the next big tech thing in your industry?
We're running 16 different networks today.
Generally each has different staff who know how to maintain them. You've basically multiplied your problems by 16 - with different sets of software that run them, different ways of provisioning them and monitoring them, and different staff to do that.
Generally, that creates a cultural issue, or even a skillset issue.
The big shift will be getting everybody onto new all-IP networks. Those all-IP networks will be good for both wireline and wireless. That's important because it really does show how powerful that network is going to be.
It's going to run your broadband service but it's also going to run connectivity to the base stations and provide wireless access.
That's cool because one network doing both seems like a good idea, because it means services will be easier to deliver on both networks.
So if I've got a video-screening application, something like Lovefilm or whatever, streaming to my home, and I'm looking at it over wi-fi, I'll be able to switch it into mobile mode and go onto a 3G network and take it with me.
The network will be able to do that more readily because it's all one network, one provisioning system.
It will enable not just simpler operation, but also seamless operation between wireline and wireless with additional capacity. That's the big deal there.
What's the biggest technology mistake you've ever made - either at work or in your own life?
I resisted the lure of the 'i' devices - the Apple devices - frankly because I saw them as, from a technical perspective, all show and no substance.
Now I have a love affair with my iPad.
It has flaws but I still love it more than I don't, and that has changed my view.
The mistake I made was being late to the party.
Unless you start using one of those devices, you don't really understand the transformation that will happen - the intuitive interface, the apps that come with it that are in many cases free.
It changes your view of how services are delivered. They're no longer these big monolithic things. They're these little bites of service that you can use and you can pick just by a touchscreen click, available to you at any time.
Even my kids, aged two, can use it. It's really changed our habits.
The mistake I made was not to embrace it based on some purest philosophy of: 'It's not being built with novel technological components, it's all just off-the-shelf stuff, it's just a branding and packaging exercise with a store where you can buy stuff. What's so neat about that?'
The answer is: Everything is neat about that. It's not the greatest device ever from a technology standpoint; it's the greatest device ever from a usability standpoint.
That's going to profoundly shift how the world evolves.