Etihad Airways takes big stake in Air Berlin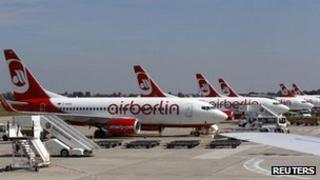 Etihad Airways, the national airline of the United Arab Emirates, has said it will increase its stake in Air Berlin from 3% to more than 29%.
Most of the increased holding will come in the form of newly-issued shares.
Under the terms of the deal, Etihad will also provide up to $255m (£165m) in financing over the next five years to Germany's second largest airline.
The airlines said they could each achieve extra revenues of 35m-45m euros (£29m-38m) in the first year.
The new funding will be a boost for Air Berlin, which is currently loss-making, and shares in the company rose almost 10% in early trading in Frankfurt.
"This is good news for Air Berlin shareholders because Etihad Airways is a strong anchor investor," said Robert Czerwensky at DZ Bank.
New services
"This new partnership expands our network reach, gives us access to 33 million new passengers and provides us with a real opportunity for global growth," said Etihad's chief executive James Hogan.
The deal is the first time Etihad has taken an equity stake in another airline, he added. As part of the agreement, the airline will have two seats on the board of Air Berlin.
Air Berlin boss Hartmut Mehdorn said the partnership opened up "enormous opportunities" for his company.
One of the most important, he said, was launching services to Abu Dhabi, which would "become our gateway to Asia and Australia".
Together, the airlines carry more than 40 million passengers a year, operate 233 aircraft and employ 18,000 people, they said.