Consumer confidence 'close to all-time low'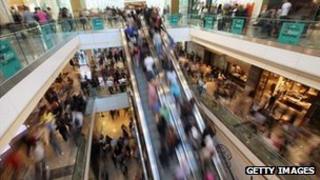 UK confidence was at a near-record low in November, according to a survey from the Nationwide Building Society.
The Nationwide Consumer Confidence Index rose to 40 from its record low of 36 in October.
It is still at about half its long-term average of 77, and any reading below 50 indicates negative sentiment.
The latest figure suggest households remain under financial pressure which is blamed on rising unemployment and prices.
November's survey also showed twice as many people judged it a bad time rather than a good time to make a major purchase.
Nationwide also reported that people were expecting house prices to fall by an average of 1.1% over the next six months.
Nationwide chief economist Robert Gardner said the report could "hardly be described as festive cheer".
He said: "Signs that inflation has passed its peak may have provided some comfort, but at 4.8% in November, the cost of living was still rising at more than twice the pace of underlying wage growth.
Nationwide said the continuing problems in the eurozone were also weighing on people's mood.
It said the public's reaction to the UK's decision to veto a recent EU Treaty would not show up in the index until its report for December was released in a month's time.