Spain's borrowing costs fall sharply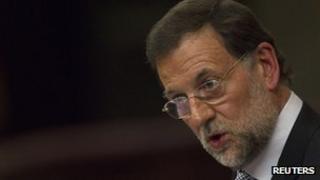 Spain's borrowing costs on short-term bonds have fallen sharply, a sign of easing tension in the eurozone sovereign debt markets.
Madrid raised 5.6bn euros ($7.3bn; £4.7bn) from six and three-month bonds, 1bn euros more than planned.
Interest rates on the six-month bonds were 2.4%, down from 5.2% the country paid in a similar auction last month.
Incoming prime minister Mariano Rajoy has pledged to cut government spending sharply in the coming year.
He has told the Spanish parliament that he aims to cut the budget deficit by 16.5bn euros next year.
This would bring the deficit down to about 4.4% of overall economic output in 2012. Spain's deficit last year was 9.2%.
While there are doubts whether the target can be met, Mr Rajoy's pledge has reassured markets that his administration will tackle Spain's rising debts.
This is one reason why they are more willing to lend the country money, hence the lower interest rates.