Government borrowing falls for third month in a row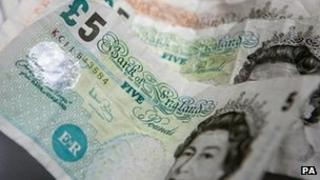 The government borrowed less in November than it had in the same month last year, official figures show.
The Office for National Statistics said public sector net borrowing excluding financial interventions was £18.1bn, down from £20.4bn in November 2010.
It is the third month in a row that public borrowing has fallen.
It means the government is still on track to meet the Office for Budget Responsibility's forecast of £127bn of borrowing for the whole financial year.
The OBR raised its prediction for annual borrowing by £5bn last month after it lowered its forecast for economic growth.
The ONS said tax revenues had been 5% higher in November, due to the effects of higher VAT and inflation.
The figure was lower than had been expected, but the level of borrowing for the previous seven months was revised upwards by £1.9bn as a result of fresh data from councils.
Net debt excluding the temporary effects of financial interventions was £977.1bn in November, which is 62.8% of the country's annual economic output.
Scrutiny
Despite three months of falls, there are concerns that there may be increases in borrowing to come.
"Government borrowing has come under even greater scrutiny following yesterday's warning from Moody's regarding the UK's AAA credit rating," said Chris Williamson, chief economist at Markit.
"In particular, the government's welfare bill is likely to increase as unemployment rises and tax revenues may well come in weaker than expected as spending by households looks set to weaken next year."
January's borrowing figure will attract much attention because that will be the first month for which the annual comparison is not affected by the increase in VAT that was introduced in January 2011.
"January is an important month for tax revenues because it's a big month for income tax revenues and it's also a very important month for corporation tax revenues so that will be a crucial determinant of what happens in the rest of the year," Peter Patterson from the ONS told the BBC.