Bank united in keeping interest rates and QE unchanged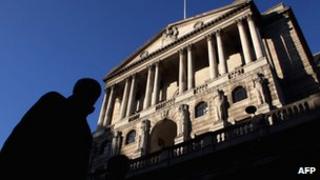 The Bank of England voted unanimously to keep interest rates on hold at 0.5% and quantitative easing at the same level of £275bn earlier this month, according to minutes of the meeting.
Members of the Bank's Monetary Policy Committee (MPC) concluded the risks for growth and inflation had not changed over the last month.
But the minutes added that further quantitative easing (QE) "might well become warranted in due course".
Some analysts expect it early in 2012.
Ross Walker, economist at RBS said: "There doesn't seem to be anything particularly new in terms of the headlines. They still have a dovish tone but the chances of a policy change in January have receded a little bit further after this and our forecast is for more QE in February.
"They're talking about capacity issues in terms of the rate of purchases, so that hints at slower asset purchases rather than a halt to QE."
Quantitative easing is the bank's policy of creating money and injecting it into the economy by using it to buy bonds from the government and, to a lesser extent, companies.
Strains remain
The minutes showed that MPC members remained concerned about the crisis in the eurozone, saying: "The worst risks had not so far crystallised, but the possibility of their doing so was reflected in continuing strains in bank funding markets and volatility in financial markets more generally."
"Overall, the committee judged there had been little change to the balance of risks to UK activity and inflation as a result of developments during the month."
Vicky Redwood, chief UK economist at Capital Economics said: "The minutes of December's MPC meeting reiterated the committee's view that there is little point in trying to fine-tune policy, but nonetheless suggested that the door remains open to more quantitative easing."
The British Chambers of Commerce (BCC) called for more QE sooner rather than later.
"Given the risks facing the economy in the near future, with minimal growth set to continue and unemployment likely to increase, the MPC should expand QE by a further £50bn early in 2012," said BCC chief economist David Kern.
"Increasing QE would help to sustain demand in the economy, and keep the exchange rate at a competitive level."