Public sector pension deal 'may be back on'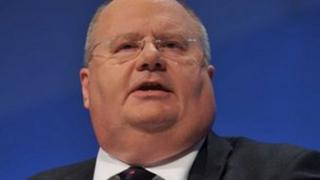 The prospect of a deal on some public sector pensions looked back on after a controversial letter from a minister was withdrawn.
The letter, from local government minister Eric Pickles, had halted the "heads of agreements" signed by the government and some unions.
It suggested that employers' contributions would be capped.
The government said the letter was an error and has since drawn up a new one.
Unison said the new letter again provided the basis to proceed to negotiations on the local government pension scheme (LGPS).
The Local Government Association (LGA), Unison and the GMB have again agreed on the principles.
Heather Wakefield, Unison's head of local government, said: "They [the principles] have the green light from government, marking a major step forward in the dispute over public sector pensions."
The row over the letter threatened to undo an announcement by the government of a breakthrough to the public sector pensions dispute, which led to a strike last month by up to two million workers.
Unions have again agreed to take the government's final offer to meetings of their executives in the new year, although the Public and Commercial Services Union has rejected it and is pressing for more industrial action.
The deals would change pension schemes for staff in the NHS, local government, civil service and education.
The Chief Secretary to the Treasury, Danny Alexander, said the changes would lead to fair and affordable pensions, which would save taxpayers tens of billions of pounds.
Prospect, the second-biggest civil service union, said it would continue to "seek improvements" on the government's proposals before it would put the offer to its 34,000 members.
The National Union of Teachers (NUT), the NASUWT (National Association of Schoolmasters Union of Women Teachers), the University and College Union (UCU) and Welsh teaching union UCAC all said they would not sign.
From 2015 the various pension schemes under consideration will be changed to a career average basis with their normal pension ages rising in line with the state pension age.