Texas court awards $150bn damages over fatal burning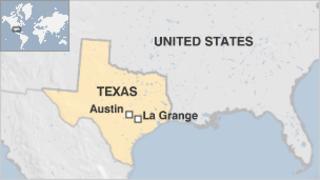 A Texas jury has awarded $150bn (£96bn) to the family of a boy who died of skin cancer 12 years after being set on fire and badly burned.
Robbie Middleton, then aged eight, was alleged to have been sexually assaulted by the same attacker two weeks earlier.
The symbolic sum - the largest personal injury award in US history - is being seen as a plea to police to arrest the suspect, a convicted sex abuser.
The previous largest award was a $145bn fine against tobacco companies.
Craig Sico, lawyer for the Middleton family, said his aim was to pressure prosecutors in Montgomery County, Texas to charge Don Wilburn Collins, now 26, with murder.
The judgement came from a Fayette County jury in La Grange, Texas.
"The jury told us afterwards the reason they made this the largest verdict [in US history] at $150bn was because they wanted to make sure their message was heard," Mr Sico told the AFP news agency.
Collins was convicted of a separate child sexual assault in 2001 and has been in and out of prison ever since, once for refusing to be registered as a sex offender. He is due to be paroled in September 2012.
'Difficult case'
The Middleton family allege that Collins set Robbie Middleton on fire after tying him to a tree and dousing the eight-year-old in petrol on 28 June 1998.
The incident happened in the woods near the Middleton home in Spendora, Texas, 35 miles (56km) outside of Houston, Texas.
The young boy managed to escape but suffered third-degree burns over 99% of his body.
He went through five months of skin-replacement surgery, but died on 29 April 2011 of skin cancer. The cancer was caused by the burns, Mr Sico said.
Lawyer David Walker told the Los Angeles Times that Collins was not charged in either alleged attack because "the case was very, very difficult, with evidence that was not clear or necessarily compelling at that time".
Mr Walker said that Middleton's injures made it "extremely difficult" to tell officials what had happened.
"There will be people who will say that's an excuse," Mr Walker said, "but the professionals here worked very hard."
The criminal case was reopened earlier in 2011, but Mr Walker said any arrests would be dependent "upon the results of that further investigation".