Tepco to raise electricity prices for corporate clients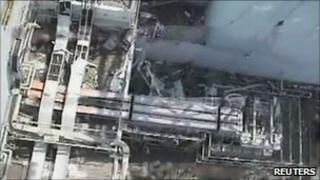 Tokyo Electric Power Company (Tepco), the firm at the centre of Japan's worst nuclear disaster, has unveiled plans to raise electricity prices for the first time in more than 30 years.
Tepco will raise prices for corporate clients from April next year, though it has not revealed by how much.
It is also considering a proposal to raise prices for residential consumers.
Tepco faces almost $100bn (£66bn) in nuclear compensation claims, raising questions over its future.
According to estimates, the increase in prices for corporate clients would help Tepco raise additional revenues of about 500bn yen ($6.4bn; £4bn).
Tepco's shares rose more than 5% on the news.
Higher costs
Japan's biggest utility provider has been facing a tough time since the earthquake and tsunami in March this year.
The twin disasters resulted in 15 of its 17 nuclear reactors being shut down, cutting its power generation capacity.
As a result the company has had to resort to thermal power stations which require natural gas, coal and oil to operate, resulting in an increase in its fuel costs.
Tepco, which supplies about one-third of Japan's electricity, said it expected fuel costs to surge by more than 10bn dollars in the year to March 2012.
"The 800bn yen (fuel cost) increase is huge. Unless this is addressed, the company cannot operate," President Toshio Nishizawa told a news conference.
"Taking into consideration the tough situation, we think it is inevitable to ask for an electricity rate rise from next April for corporate customers, based on the premise of an even stricter restructuring," he added.
Growing concerns
The high fuel costs are not Tepco's only problem.
Not only was its nuclear power output crippled by the tsunami, but there were also radiation leaks at its Fukushima Daiichi nuclear plant.
Almost 80,000 residents have had to be evacuated from the areas near the plant, and Tepco has been ordered to pay compensation to the displaced people.
The combination of all these factors has raised concerns about whether it can manage to generate enough revenue to meet all of these expenses.
Earlier this week, local media reported that the government was planning to take as much as a two-thirds stake Tepco.
This would result in a de-facto nationalisation of the company.
Tepco and the government told the BBC that the reports were not accurate.