Toyota seeks to boost production by 20%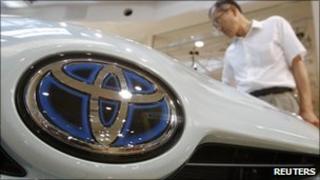 Toyota has said it plans to increase production by 20% next year as it tries to recover ground lost due to March's earthquake in Japan and the recent floods in Thailand.
The company aims to produce 8.48 million vehicles in 2012, and increase sales by a quarter to 8.65 million.
Toyota is due to lose its crown as the world's biggest carmaker this year to the US's General Motors (GM).
Earlier this month, the carmaker halved its profit forecast for this year.
It now expects a net profit of 180bn yen ($2.3bn; £1.5bn) for the year ending 31 March 2012, compared with its previous forecast of 390bn made in August.
'Sceptical'
Given the current global economic climate, and the possible impact of the eurozone debt crisis on European demand, some analysts said Toyota's production plans were a little optimistic.
"With these factors in mind, I think some investors are somewhat sceptical that they will reach these numbers," said Fujo Ando, analyst at Chibagin Asset Management.
Japanese carmakers have had a tough year so far, with both the March earthquake and Thailand's disaster affecting production, and the strong yen - which increases the price of exported cars - putting pressure on sales overseas.
Toyota has also suffered reputational damage due to recalling about 12 million cars in the past two years.
However, some observers still expect the Japanese giant to recover its position as the world's top carmaker, a position it has held since taking over from GM in 2008.
"The reason they lost sales this year was because they couldn't build the cars," said Satoru Takada at TIW.
"Now that they can, it's possible they'll take back the top spot."