New BMI owners say Belfast-Heathrow flights 'secure'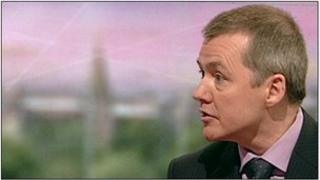 BMI Belfast to Heathrow flights will continue despite the sale of the airline, the head of the International Airlines Group (IAG) has said.
Willie Walsh was speaking as news broke that IAG had agreed to buy BMI from Lufthansa for £172.5m.
IAG warned there could be job losses but Mr Walsh moved to reassure NI commuters about the London route.
"It will give security to those who depend on the Belfast-Heathrow link, " he said.
"British Airways has not operated to Belfast for many years. I have made no secret of my desire to return to Belfast and this gives us the opportunity to do so. I am delighted with the news.
"In terms of securing connectivity, particularly Belfast to Heathrow, and the UK regions to Heathrow this is the best if not the only deal. I think it is a great news story for the UK."
Lufthansa has an option to sell BMI Baby before the deal is closed.
But Mr Walsh said if this did not happen, then IAG were not interested in retaining BMI Baby or the BMI regional brand.
Loss
BMI employs more than 3,600 staff, but reported a £153m loss in the year to 2010.
Mr Walsh, IAG's chief executive, said: "Given the scale of BMI's losses, there is an urgent need to restructure the business.
"Unfortunately, this will mean some job losses but we will secure a significant number of high quality jobs here in the UK and create similar new jobs in the future.
Mr Walsh said the restructuring would be carried out over a three-year period.
You can hear more of Colletta Smith's interview with Willie Walsh on the NI Business News podcast.