US growth revised down again for third quarter to 1.8%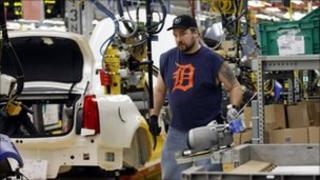 The US economy grew at a slower pace than previously estimated in the three months to the end of September.
Revised figures from the US Commerce Department show gross domestic product grew at an annual pace of 1.8% in the period, down from the previous estimate of 2% and first estimate of 2.5%.
The downward revision was largely due to lower consumer expenditure than previously thought.
Separate figures showed a fall in weekly unemployment benefit claims.
Initial claims for state benefits dropped 4,000 to a seasonally adjusted 364,000, the Labor Department said - the lowest level since April 2008.
Analysts stressed that the outlook for US economy had changed slightly since the third quarter.
"[The revised data] suggests the economy had less momentum going into the fourth quarter than we'd expected, but more recent reports suggest a stronger rate of growth for the fourth quarter, so that offsets the downward revision," said Omer Esiner, an analyst at Commonwealth Foreign Exchange.
"Jobless claims are a case in point. They continue to show an encouraging trend of declining claims. I think that reinforces the notion that the economy has strengthened in the fourth quarter."