Australia's Gloucester Coal agrees to Chinese takeover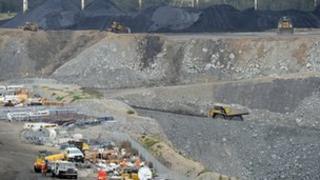 The largest shareholder in Australia's Gloucester Coal has agreed to a takeover by China's Yanzhou Coal Mining, clearing the way for the deal.
Singapore's Noble Group accepted the 2.2bn Australian dollar ($2.2bn; £1.4bn) offer.
Shares in Gloucester Coal initially jumped almost 30% on the news, before settling back to trade about 20% up.
The combined entity, run by state-owned Yanzhou, will be the largest coal miner on the Australian stock exchange.
Demand for coal
Fast growing economies such as China and India are buying up coal miners in Australia because of a rising demand for coking and thermal coal.
Coking coal is used in steelmaking, and thermal coal is used in electricity generation.
Yancoal and Gloucester both run mines and other projects in New South Wales and Queensland.
Singapore's Noble Group owns 64.5% of Gloucester, and said in a statement that it would accept the offer.
"Noble has informed the independent directors of Gloucester that, subject to approval by the Noble board of directors and in the absence of a superior proposal, it intends to vote its shareholding in favour of the merger proposal," the company said.
It expects to make a one time gain of about $200m from the deal.
The agreement means the implied value of Gloucester is 10.16 Australian dollars per share, a 45% premium on the price the shares last traded at.
The new entity will be 23% owned by its shareholders and 77% by Yanzhou.
The deal comes at a time of consolidation in Australia's mid-level coal sector. It requires approval by shareholders and from Australia's Foreign Investment Review board.