Singapore's factory output declines 9.6% in November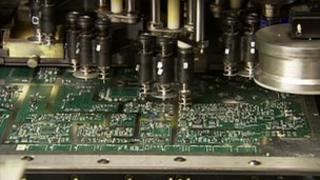 Singapore's factory output fell in November after a drop in electronics manufacturing caused by slowing demand and supply chain issues.
Industrial production fell by 9.6% from a year earlier, with electronics production down 30.1%.
While floods in Thailand disrupted supplies of components, the debt crisis in the eurozone and a slowdown in the US hurt demand for electronic goods.
Analysts warned manufacturing activity may remain weak for some time.
"Going forward, manufacturing output still looks dodgy," said Song Seng Wun of CIMB Research.
Thailand factor
Many industrial areas in Thailand were flooded earlier this year, forcing thousands of factories to shut down.
That led to the disruption of supplies of key components such as hard disk drives for electronics manufacturers in Singapore, hurting their output.
According to IHS iSuppli, Thailand accounts for more than 25% of the global hard disk drive manufacturing and the sector was amongst the worst affected by the floods.
While the situation in Thailand has started to improve, analysts said other global factors were still hurting Singapore's electronics makers.
"Electronics will only start to improve once we start seeing the Europeans spend again," said CIMB's Mr Wun.
"As for the US, even though fewer people are filing for jobless claims and we see modest improvement, the economy is still not generating enough jobs to be supporting a strong recovery," he added.