Italian consumer confidence falls in December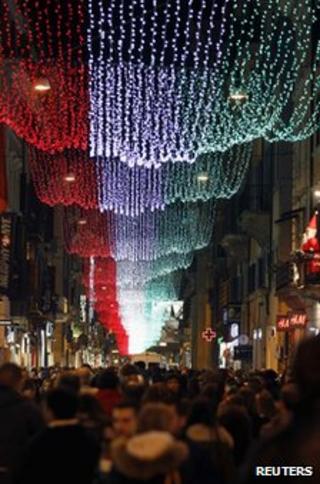 Italian consumer confidence fell in December as fears grew that the country will slip into recession next year.
The consumer confidence index fell to 91.6 from 96.1 in November, according to statistical agency Istat.
Istat said this week that Italy's economy had shrunk by 0.2% in the three months to the end of September, the first contraction since 2009.
Italy's government has predicted the country's economy will contract by 0.4% during 2012.
Professor John Wyse at the European School of Economics said: "These numbers are expected. People are starting to see the bite of higher gasoline taxes, higher value added taxes in general, doctor consultation fees and they expect more coming next year with the reintroduction of the real estate tax on the first house."
Italy's senate passed a confidence vote on Thursday on austerity measures planned by Prime Minister Mario Monti.
The package of measures includes raising taxes on the assets of the wealthy, increasing pension ages, and a major drive to tackle tax evasion. Mr Monti has also said he will give up his own salary as part of the effort.