Consumers still looking to cut debts, says BBA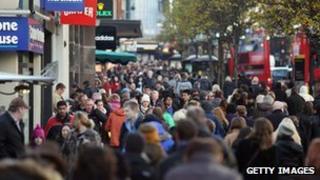 People are continuing to pay down their debts, despite High Street stores offering discounts to tempt shoppers, according to figures from the British Bankers' Association (BBA).
Retail sales grew in November but there was little demand for loans and overdrafts, the BBA said.
Credit card borrowing slightly increased, but mainly as a result of the interest due on existing debts.
The number of mortgage approvals also fell, according to the BBA figures.
David Dooks, statistics director at the BBA, said: "Until there are clear signs of improvement in the economy and stability on the international front, households and businesses lack the confidence needed to seek credit for spending or investment.
"Stocks of bank lending therefore continue to be driven down, as repayments dominate over the absence of any material rise in borrowing demand."
The number of approvals for house purchases fell to 34,738 in November from 35,196 the month before. However, the figure was higher than the figure of 29,875 seen at the same point last year.
However, the amount of consumer credit taken out fell by £200m in November compared with the month before and the amount of money saved by consumers rose by £2.1bn over the same period to a total of £645.3bn.
The value of lending to businesses also fell, down £0.7bn as firms relied more on cashflow to fund operations.