US durable goods orders jump 3.8% in November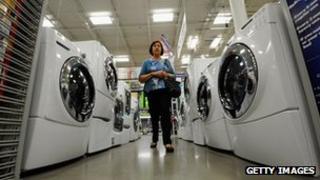 Orders for US durable goods jumped by 3.8% in November, which was much more than expected.
The US Commerce Department said that orders for durable goods, including transportation equipment, rose by $7.5bn (£4.8bn) to $207bn.
Excluding transportation goods, which are seen as volatile, orders rose overall by 0.3%.
In the same announcement the previous month's figures were revised up to $199bn from $197.7bn.
Transportation goods include aeroplanes which drove most of the growth.
Plane-builder Boeing received 96 orders for aircraft in November compared with 7 in October.
However, car manufacturers saw orders fall by 0.5% in the same period after rising 5.9% in October.
'Good sign'
Analysts had expected an overall rise in US durable goods orders of about 2% in November and said the underlying picture from the data was encouraging.
"This was a positive surprise, and the prior month's number was revised upwards," said Chris Orndorff, senior portfolio manager at Western Asset Management.
"A good sign, but the rolling average of the last three months is still far below the high durable goods levels of Q1 2011.
"And the 2011 levels are below the 2010 levels, so by this measure the economy is still muddling along. However, at least it is in positive territory."
In a separate report the Commerce Department announced more positive results for the US in sales of new homes.
Sales of new single-family houses in November 2011 rose to an annual rate of 315,000, which was up 1.6% from October's revised figure of 310,000.
However, US consumer spending figures, which the Commerce Department also released on Friday, were disappointing.
Spending rose by 0.1% from October, worse than predicted. Incomes also rose by just 0.1%, the smallest rise in personal incomes since August.