Japan approves $1.2tn draft budget as it cuts spending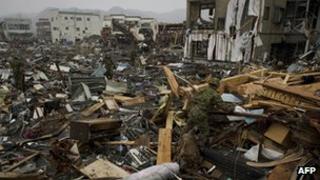 Japan has approved a draft version of its state budget for the next financial year, which would cut spending for the first time in six years.
However, critics have complained the plan relies on cash-raising measures that are not counted in the main figures and will boost spending.
Japan is already the world's most-indebted developed nation.
Its finances are under increased pressure as it tries to rebuild after the March earthquake and tsunami.
According to Japan's Cabinet office, damage from the 11 March disasters is estimated at between $198bn (£127bn) and $309bn, making it the world's most expensive natural disaster.
Cutting deeper?
On Saturday, Japan unveiled its 90.3tn yen ($1.2tn; £742bn) draft budget plan for the fiscal year running from April 2012 to April 2013.
That figure compares with a record budget of 92.4tn yen in the current financial year.
The new draft budget will include 68.4tn yen of actual spending, which is a 3.6% lower than last year's record of 71tn yen in spending.
However, the government will also issue special-purpose bonds, which will be not be included in the budget's general account.
These will be financed through revenues generated by future tax increases, most notably a planned raise in the country's sales tax.
Critics argue that the future tax increases and other plans to raise revenues may fail to be implemented due to political opposition, leaving a hole in Japan's already wobbly finances.
Economic realities
Japan's public debt is already twice the size of the $5tn economy, and some analysts claim that Japan would be better off outlining a longer-term and more realistic, if tougher, spending plan.
"Rather than patching up numbers to ostensibly meet targets, what's more important is that the government to show exactly how it can maintain fiscal discipline in the medium term," said Takahide Kiuchi, chief economist at Nomura Securities to Financial Times.
Japan is facing a number of economic challenges that are putting pressure on the government and the country's economy.
Heavily dependent on exports for growth, the country is feeling the a slowdown caused by the eurozone debt issues and weak expansion in the US.
As a result, the government has forecast that the economy will shrink by 0.1% in the year to the end of March, compared with the 0.5% growth it previously predicted.
The government also said growth in 2012 would be 2.2%, down from the target of as much as 2.9% it forecast earlier this year.