GVK shares up on report of airport business stake sale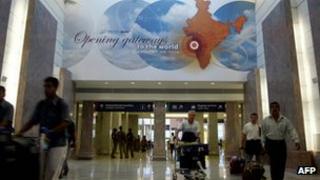 Shares in India's GVK Group jumped more than 8% on speculation that Singapore's Changi Airport Group is set to buy a stake in its airport unit.
The Economic Times newspaper claims Singapore-based Changi may pay as much as 22bn rupees ($415m; £266m) for a 26% stake.
GVK operates two of India's busiest airports in Mumbai and Bangaluru.
The firm has been looking at ways of restructuring its business and cutting its debt levels.
According to the Economic Times, the deal is in its final stages. The newspaper quoted an unnamed person familiar with the situation as saying an announcement was expected in January.
Neither GVK nor Changi Airport Group were immediately available for comment when contacted by the BBC.
Powerful backer?
Some analysts argue that GVK plans to sell the stake so that it can better finance a bid for Mumbai's second major airport, Navi Mumbai.
Mumbai-based newspaper DNA reported that GVK has a "first right of refusal for the proposed airport" which was agreed when the company finalised the deal for Mumbai's current airport.
"We will exercise the right and bid for the project," a GVK spokesperson was quoted by DNA as saying.
Other media reported last week that GVK had also been looking at selling some businesses in Australia in an attempt to raise capital.
Shares in GVK have dropped about 73% so far in 2011, compared with a 23% decline in India's main stock index, the Sensex.
GVK currently owns 50.5% of Mumbai's airport and 43% of Bangaluru's airport.