Saudi Arabia posts huge budget surplus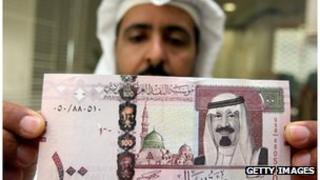 Saudi Arabia has posted an $81.6bn (£52.2bn) budget surplus for 2011 as its income beat forecasts by more than double, official figures suggest.
Revenues grew to $296bn, although ministers had forecast $144bn, said the Saudi Arabian finance ministry.
The country plans to reduce spending in 2012 to $184bn after officials said they expect the surplus fall to just $3bn next year.
Analysts however, see this as another conservative forecast.
"We still find this to be an expansionary budget," said Monica Malik, chief economist at investment bank EFG-Hermes in Dubai.
Most of the growth in revenue was driven by oil production which accounts for around 90% of the country's exports.
Conservative estimates
The country has a history of using relatively low oil prices of around $60 a barrel as the basis for its forecasts.
The average price of crude oil in the twelve months to 26 December 2011 has been $94.96 a barrel, according to data from Bloomberg.
Saudi Arabia started pumping more oil this year, after supplies from Libya were disrupted by the recent conflict which ended in the ousting of Muammar Gaddafi.
The country increased production to 10.047 million barrels per day from its planned quota of 8.05 million barrels per day.
Saudi Arabia agrees on its quota at meetings with other members of Opec, the Organisation of Petroleum Exporting Countries.
Earlier this month, members of Opec are reported to have agreed to limit daily oil production for the first time in three years.