S Korea's consumer sentiment dips amid growth concerns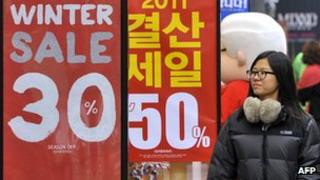 South Korea's consumer confidence had its biggest fall in nine months, as fears about the economy and the eurozone debt crisis hurt sentiment.
The Bank of Korea's sentiment index fell to 99 in December from 103 in November.
There are worries that the eurozone debt crisis and slowing global economy may hurt Korean exports.
At the same time, there have been fears of instability following the death of North Korean leader Kim Jong-il.
Slowing growth
A slowdown in the global economy has already seen South Korea cut its growth forecast for this year and next, citing gloomy prospects for exports.
South Korea relies heavily on its export sector, with almost half of its gross domestic product coming from foreign sales.
However, the ongoing debt crisis in the eurozone and slowing growth in the US has dented demand for its goods.
The Ministry of Strategy and Finance said earlier this month that is expected the economy to grow by 3.8% in 2011 and 3.7% in 2012.
That was down from its previous forecast of 4.5% for both years.