Profits slow at Chinese industrial firms, report says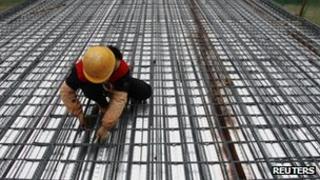 China's industrial companies are posting slower profit growth, a further sign that the country's economy is losing pace.
According to the National Bureau of Statistics, industrial firms saw their net income rise by 24.4% in November, compared with 25.3% in October.
The industrial sector has been one of the main drivers of China's expansion.
However, over the past year the government has been trying to slow growth to make it more sustainable.
Recent figures show that it has been successful in taking some of the steam out of the economy. In the three months to the end of September, gross domestic product increased by 9.1%, down from 9.5% in the previous quarter.
China's growth has slowed for three quarters in a row and some forecasts see it dipping below 9% in 2012, which would be the weakest expansion in more than a decade.
In fact, the slowdown has been so successful that China's central bank has lowered the reserve ratio requirement for banks recently in a bid to boost lending again.
Some analysts predict that policymakers will again focus on stimulating growth.
"Slowing profits would provide further evidence of decelerating growth, adding pressure on policy easing," said Dariusz Kowalczyk, a senior economist at Credit Agricole CIB in Hong Kong.