Japan's industrial output dips 4% on yen and flooding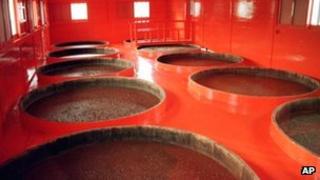 Japan's industrial production fell in November, pulled down by a strong yen, weak global demand, and after flooding in Thailand damaged many suppliers.
Production fell 4% from the same month a year earlier, the Ministry of Economy, Trade and Industry said.
The data comes just days after Japan said it expected the economy to shrink by 0.1% this year, down from a previous forecast of 0.5% growth.
However, analysts said factory output is likely to rebound in coming months.
"Thai floods caused disruptions in the supply chains of the companies that produced critical parts used for autos, computers and hard drives," said Masaaki Kanno, chief economist Japan, JP Morgan Securities.
"This is just a temporary decline as manufacturers expect the recovery of the production in the next two months to improve as most of the impact from the flood will be washed out," he added.
Growth concerns
The world's third-largest economy has been hit by a number of issues that are hurting expansion.
Thailand's worst flooding in 70 years forced a number of Japanese companies to shut their factories in the country and also affected their suppliers.
At the same time, the yen has hit levels that exporters say make their goods uncompetitive and too expensive for foreign buyers.
And finally, the continuing economic problems in the eurozone were identified by the Bank of Japan Governor Masaaki Shirakawa last week as being a continuing threat to the country's economy.
Analysts said the dip in industrial production was likely to add to those woes.
"Japanese gross domestic product in the fourth quarter of 2011 will again be weak, after the sharp rebound out of recession seen in the third quarter," said Rajiv Biswas of IHS Global Insight.
Japan has also lowered its growth forecast for 2012, saying the economy will grow by 2.2%, down from its earlier target of as much as 2.9%.