S Korean inflation tops central bank target in December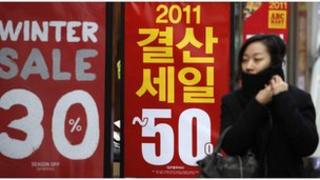 South Korea's inflation rate has remained above the central bank's target range in December, despite its attempts to slow price growth.
Consumer prices rose 4.2% in December from the same month a year earlier, and by 0.4% from November, the statistical office said.
The Bank of Korea has been trying to bring inflation below 4%.
The worry is that interest rates may now have to stay high at a time when economic growth is slowing.
On Thursday, the Bank of Korea said that taming inflation was one of its top priorities for 2012. The central bank has set a target to keep the inflation rate between 2% - 4%.
"By striving to steer inflation close to the mid-point of this target, the Bank of Korea shall conduct its monetary policy so as to firmly anchor the basis for price stability over a medium-term horizon," it said in a statement.
The bank has raised interest rates three times during the current year in an effort to slow inflation that peaked at a three year high of 5.3% in August.
Change in policy?
In recent months, it seemed as if their policy changes had been working. The annual rate of inflation dropped to 3.8% in September, and 3.6% in October.
However, a number of factors including higher oil prices, and increased raw material and food costs have combined to push the rate of inflation back above 4%.
At the same time, and more worryingly for many analysts, South Korea's economy has been showing signs of weakness.
Earlier this week, a report by the Bank of Korea showed that its manufacturing sentiment index was at its lowest level in almost two-and-a-half years in November.
South Korea's consumer confidence, meanwhile, also had its biggest fall in nine months, dropping to 99 in December from 103 in November.
Despite these issues, the central bank said it expected the economy to recover in the coming months.
"After showing signs of a mild slowdown for some time, domestic economic growth is forecast to recover from the second half of the year," it said.
However, it warned that a deterioration of the eurozone debt problems and political uncertainty in North Korea were the biggest threats to its economic stability.