Japan delays sales tax increase amid growing opposition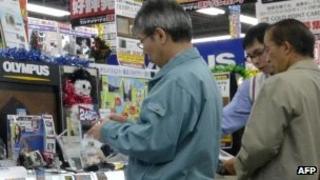 Japan's ruling party, the Democratic Party of Japan (DPJ), has agreed to postpone a sales tax increase amid growing opposition against the move.
A DPJ panel has agreed to delay raising the tax to 8% until April 2014, with a further increase due in October 2015.
The 8% tax level was due to come into force by April 2013.
Prime Minister Yoshihiko Noda has been seeking to double the sales tax from current 5% to improve the country's finances, amid growing debt levels.
Japan, the world's third-largest economy, has the highest public debt to GDP ratio among the world's developed economies.
Rebuilding economy
The delay in tax increase comes just days after Japan unveiled a 90.3tn yen ($1.2tn; £742bn) draft budget plan for the financial year running from April 2012 to April 2013.
Japan has been facing an increased pressure on its finances as it continues to rebuild its infrastructure and economy after the earthquake and tsunami in March.
According to the Cabinet office, the twin disasters are estimated to cost it between $198bn (£127bn) and $309bn.
Analysts said the delay in the tax increase was likely to put pressure on Japan's already-stretched finances.
"We are now in a spending-oriented economy without a meaningful tax reform policy," Martin Schulz of Fujitsu Research Institute told the BBC.
"The tax increase would have counterbalanced the budget that the government have drafted," he added.
Tough to convince?
The planned increase in the sales tax has been a hotly debated topic in Japan, not just among the ruling and the opposition parties, but also the general public.
Analysts said, while people understood that Japan was facing tough times, they wanted the government to first scale back its own expenses.
"The public is against it as they want to first see spending cuts and reforms from the government side before they give their support to any such move," said Mr Schulz.
"It's very simple - it is impossible to increase the consumption [sales] tax." he added.
At the same time, there are fears that an immediate tax increase may dent consumer sentiment in Japan and hurt its economy.
According to the latest figures, retail sales in Japan fell 2.3% in November from a year earlier, raising concerns about a slowing domestic demand.