Japan's Nikkei at lowest year-end level since 1982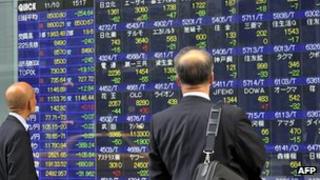 Japan's main share index has closed at its lowest end-of-year level since 1982.
The Nikkei 225 index finished Friday up 0.7% to 8,455.35.
Stocks have been hit by a weak global economy, as well as a devastating earthquake and tsunami on 16 March that left 20,000 people dead or missing and sparked a nuclear crisis.
Shares have lost a fifth of their value this year, with the majority of losses in the two days following the disaster.
The disaster severely disrupted manufacturing at carmakers such as Toyota and electronics firms such as Sony.
Shares in Tepco, the owner of the Fukushima nuclear power plant that became the focus of an effort to prevent a meltdown, dropped 91% this year.
But housebuilder SXL, which has participated in reconstruction work, has seen its shares jump more than 260% this year.
The Nikkei is still more than 10% above the low of 7,621.92 it set in October 2008, in the aftermath of the global financial crisis. But Japanese shares rallied back strongly in the last two months of that year to finish above this year's level.