Euro remains near its low for 2011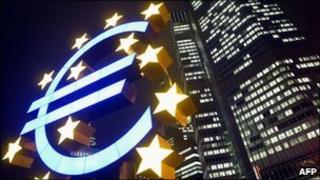 The euro is near its low for the year following a tumultuous 12 months in which its existence has been questioned.
But Germany's Finance Minister Wolfgang Schaeuble said he was confident that the currency union would survive.
"I think we will be far enough along in the next 12 months that we will have banished the dangers of contagion and stabilised the eurozone."
The euro was at $1.2960, a day after reaching a 15-month low of $1.2858.
The European single currency also fell below 100 yen for the first time in ten years.
Germany, the eurozone's largest economy, has been instrumental in organising bailouts of its neighbours, without which the monetary union might have fallen apart already.
Asked whether he could rule out the 17-nation eurozone breaking up, Mr Schaeuble said: "According to everything that I know at the moment, yes."
"Of course, the European Union cannot force anyone to stay in if they don't want to belong any more," he added. "But no such development can seen at the moment."
The euro has dropped 3.4% against the US dollar this year, and 2.2% versus the British pound.
Debt yields
In recent months, the yields on Italian and Spanish debt has risen as investors have worried about their ability to pay back their debts.
On Thursday, the Italian government sold 10-year bonds at interest rates as high as 6.98% - just a touch below a level considered unsustainable in the long run.
Italy has 161bn euros in debt repayments due between February and April 2012, all of which it will have to finance through new borrowing.
On Friday, the final trading day of 2011, Italian 10-year debt was trading on the secondary market at 7% - up from 4.8% at the end of 2010.
By contrast, on Friday Germany's 10-year debt yielded 1.83% and the UK's borrowing cost was about 1.98%.
Bailouts
Last year, the eurozone and the International Monetary Fund bailed out Greece and the Irish Republic, which were struggling to borrow in the financial markets and pay their debts.
This year, it agreed to bail out Portugal - and Greece for a second time.
In September, UK Foreign Secretary William Hague called the euro a "burning building with no exits".
But in November, eurozone leaders agreed a rescue plan that included boosting the size of its bailout fund, the European Financial Stability Fund, to capacity of 1tn euros.
In December, 26 out of 27 EU member states backed a tax and budget pact to tackle the eurozone debt crisis. Only the UK said it would not join.