Royal Mail's web glitch persists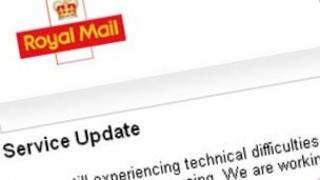 A Royal Mail website that allows people to calculate their postal costs has now been down for more than a month.
The Price Finder page - which calculates postal costs of packages based on size and weight - has been closed since 21 November.
A spokesman said that work was ongoing to try to solve the problem, after the page affected the functionality of other related services.
Other Royal Mail website services that were affected should now be working.
Problems with the SmartStamp and Online Postage sections of the website had led to some customers being charged twice for services. These people had now been refunded, the spokesman said.
Some individuals might still have sporadic problems on these pages, but it is only the Price Finder site that continues to be shut to all users.
The spokesman said that it was hoped that the service would be available again very soon, after ensuring that - by switching the service back on again - it would not cause faults on other services.
Royal Mail and Capgemini, which manages the Royal Mail website, have apologised.