Lingerie chain La Senza to close four Northern Ireland stores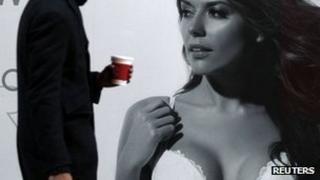 Troubled lingerie chain La Senza is to close four shops in Northern Ireland.
The business, which announced on 23 December that it was going into administration, is closing more than 80 shops across the UK and Ireland.
The Northern Ireland stores to close are at Castle Court and Victoria Square in Belfast along with branches in Ballymena and Derry.
Dozens of retail jobs have been lost in NI recently with Barratts Shoes and D2 jeans among firms closing branches.
La Senza blamed "trading conditions" and "the overall macro environment" for its decision to go into administration.
The retailer had about 2,600 staff at 146 stores and 18 concessions across the UK.
Andrew Irvine of Belfast City Centre Management said that despite the problems for individual retailers nationally, the broad picture locally remained positive.
"Belfast did trade very, very strongly through Christmas and the January sales are off to a great start too," Mr Irvine said.
"What you are actually seeing with these retailers here is their national picture. Belfast losing stores is a part of a national decision so while Belfast has traded extremely strongly, across the nation, these retailers haven't done so well."
It is understood that £62,000 was spent on designer handbags in one Belfast shop on Boxing Day alone.