Merkel and Sarkozy announce first euro meeting of 2012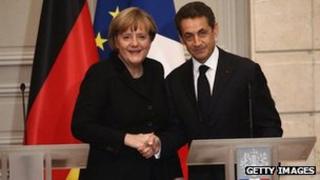 German Chancellor Angela Merkel and French President Nicolas Sarkozy have said they will meet next week to discuss the eurozone debt crisis.
Their first meeting of 2012 comes after all EU countries except the UK agreed to work together on a new treaty to stabilise the eurozone.
Statements from the two leaders said their meeting was designed to prepare the ground for future EU summits.
The European Council is due to meet on 30 January.
The two leaders of the eurozone's most powerful economies have met regularly in advance of major EU gatherings.
At the next summit, leaders will seek to make progress towards a new agreement.
Twenty-six out of the EU's 27 members have agreed in principle to a new, inter-governmental treaty to stabilise the single currency.
However, it is not yet clear how the treaty would operate alongside existing EU structures.
The so-called 'fiscal compact' will include automatic sanctions, which can only be blocked by a majority of powerful states.
'Risks'
European leaders have warned of a difficult year ahead, as many economists predict recession in 2012.
Mrs Merkel said Europe was experiencing its "most severe test in decades", but that Europe was growing closer during the debt crisis.
Mr Sarkozy said the crisis was not finished and said the new year was "full of risks".
The French leader faces an election in the spring and his socialist opponent, Francois Hollande, has opposed some of the proposed treaty changes.