US manufacturing activity beats forecasts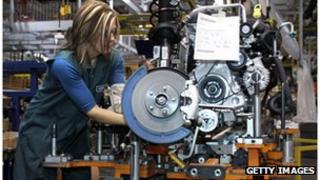 US manufacturing activity hit a six-month high in December, according to a survey from the Institute for Supply Management (ISM).
The ISM's index, which looks at orders, production and jobs, rose to a higher-than-expected level of 53.9 in December, up from 52.7 in November.
Any value above 50 indicates expansion in sector.
It was the 29th month in a row that the sector has grown and the latest in a run of positive indicators from the US.
Shares rose on the news, with the Dow Jones index up 1.8% in the early hours of trading, although analyst reaction has been more cautious about the outlook for the US economy as a whole.
Last Updated at 20 Mar 2018, 19:58 GMT
*Chart shows local time
value
change
%
24727.27

+

+116.36

+

+0.47

Top winner and loser

337.63

+

+

13.64

-

-
"At face value, [the figures are] already consistent with annualised GDP growth of between 2.5% and 3%. This sits comfortably with other data suggesting that the economy is gaining traction," said Paul Dales, Senior US Economist at Capital Economics.
"That all said, it is hard to see the US economy strengthening this year when the eurozone is on the cusp of a potentially severe recession and when growth in Asia is set to slow. As such, 2012 will be another challenging year for the US economy, perhaps resulting in GDP growth of no more than 1.5%."
Encouraging signs
In a separate announcement on Tuesday, the US Census Department said spending on construction projects in November was $807.1bn (£515.8bn). This was 1.2% above revised estimates for October and 0.5% higher than the same period in 2010.
The US economy has ended 2011 with a series of upbeat indicators.
US unemployment fell to its lowest level for two-and-a-half years in November, according to the Department of Labor.
The Conference Board Consumer Confidence Index rose almost 10 points to 64.5 in December, up from a revised 55.2 in November.