Unicredit shares fall on rights issue concerns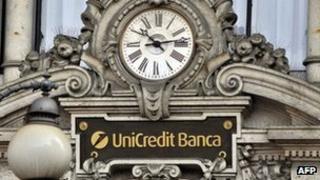 Italian bank Unicredit fell sharply on the Milan stock exchange after it announced the details of a 7.5bn euro ($9.8bn; £6.3bn) sale of new shares.
Trading was briefly halted after it emerged only 24% of shareholders had taken up the offer despite being priced 69% below Tuesday's closing price.
Shares were down 13.8% by the close of trading on Wednesday.
The bank wants to triple its number of shares to help it meet European demands to bolster its financial resilience.
The European Banking Authority (EBA) said Unicredit was sitting on a 7.97bn euro shortfall in its capital - its buffer against potential future losses.
The Italian bank was one of many European banks ordered by the EBA in December to raise a total of 115bn euros in additional capital, in order to ensure that they could withstand losses related to the eurozone debt crisis, and to restore confidence in the region's banking sector.
Emporiki, a small Greek bank, said it had received a 2bn-euro capital injection from its parent, French bank Credit Agricole, on Wednesday.
Despite the EBA's move, nerves in the banking sector remain frayed.
Eurozone banks have increasingly turned to the European Central Bank (ECB) to provide them with loans and a safe place for their cash, as the banks remain unwilling to lend to, or deposit cash with, each other.
Last month banks borrowed 489bn euros from the ECB via newly available three-year rescue loans.
Dilution
In a statement Unicredit said it had secured interest for just 24% of the shares on offer so far, worse than expected.
As a share rights issue, the new shares must be offered for sale to existing shareholders first. Two new shares are being offered for sale for each existing share.
However, the discounted price of the share rights offer would heavily dilute the value of existing shares if the sale of new shares still goes ahead.
It would reduce the value of existing shares by a hypothetical 46% compared with their Tuesday closing price.
That in turn means that an investor buying the discounted new shares would be doing so at a 43% discount to this hypothetical diluted share value. But despite the theoretical quick gain to be made from this discount, shareholder uptake of the new share offer has been very weak.
"Whatever way you slice and dice it, Unicredit's discount is much bigger than for the other banks and that being the case, I think it's come as a bit of a shock to some investors, and I think some of them are just bailing out," said Andrew Lim, banks analyst at Espirito Santo.
Precedent
Unicredit announced the rights issue in November after reporting a 10.6bn-euro loss in the three months to September due to writedowns on its holdings of eurozone debt.
The bank is to shed some 5,000 jobs as part of a cost-cutting plans.
Shares in Unicredit have fallen more than 70% since February last year.
Its difficulties set a worrying precedent for the many other banks that will be seeking new capital injections from their shareholders in accordance with the EBA's edict.
Unicredit has the second largest capital shortfall in Europe after Spanish bank Santander.
"A bank of this significance, of a large European country, not being able to obtain money easily is clearly an indication of a lack of investors interested in the banking industry," said Ralph Silva from SRN analysis.
Banks who are unsuccessful in appealing to their shareholders or other private sector investors would ultimately have to look to their respective national governments to stump up the money.